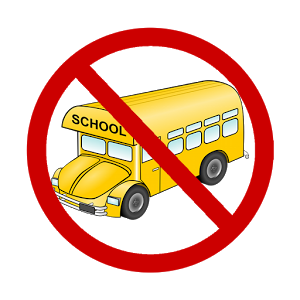 The Halton Buses are CANCELLED for TODAY due to inclement weather. 
If you choose to drive your child to school you will need to pick your child up as buses will be CANCELLED ALL DAY.


As well, if you choose not to bring your child to school, PLEASE call the attendance line at 1-877-409-6310

. 
To make pick-up today run smoothly please note the following:
DO NOT park in the pick-up / drop-off zone. Please park on the side streets and walk to get your child at the school.


BUS STUDENTS will wait for their parent/guardian in the foyer of the school in their usual bus lines. Bus students will dismiss out the front doors.


ALL OTHER STUDENTS will dismiss out the back as per usual.


Unless you have an appointment that requires you to have your child leave early, we request you kindly wait for the dismissal bell at 

3:20pm

. We would like to avoid any unnecessary interruptions in the classrooms at the end of the day. Supervision ends at 

3:35pm

 and the office closes at 

4pm

.
Again, unless you can park in a parking spot, please park your car off of school property and walk to get your child. Please pay close attention to our crosswalk staff as they are there for the safety of the children. Drive slowly and do not drive around them.  We appreciate all of your support on this chilly January day.